Product Descriptions

Important notes:

This is a group-buy spot for Typ 65+ on FCFS basis (Limited to 350 UNITS)

Selection for colors, PCB, plate layout and optional extras will be happen on the 2nd invoice where shipping charges will be paid.

A cancellation fee of 3.5% - 4% will be deducted from the total amount paid. All sales are deem final and refund is not applicable after group-buy phase.


Typ 65+

Quantity: 350 UNITS (Limited to 1 kit per person, any additional units would result in cancellation of invoice)
Group-buy starts: 30th November, 9AM (MYT)
Group-buy ends: 14th December, 11:59PM (MYT) or Sell-out

Colour selection / extras would happen only after group-buy date or sell-out

For more details, please visit click here
Case
Designed by 14x71
6° Typing angle
6063 Aluminium case
Twill carbon fiber half, full plate options
Dual mount configuration :- Top mount or gasket mount
Macro cluster with brass / polycarbonate accent
Front cherry lip design :- 17.7mm height
Weight 1.65kg (Fully built)
PCB
Designed by KOPIBENG
USB Type C connector

ESD protection

Thickness: 1.6mm

Hotswap, solder pcb options
VIA and VIAL compatible
Red (solder) and yellow (hotswap) solder mask

Layout: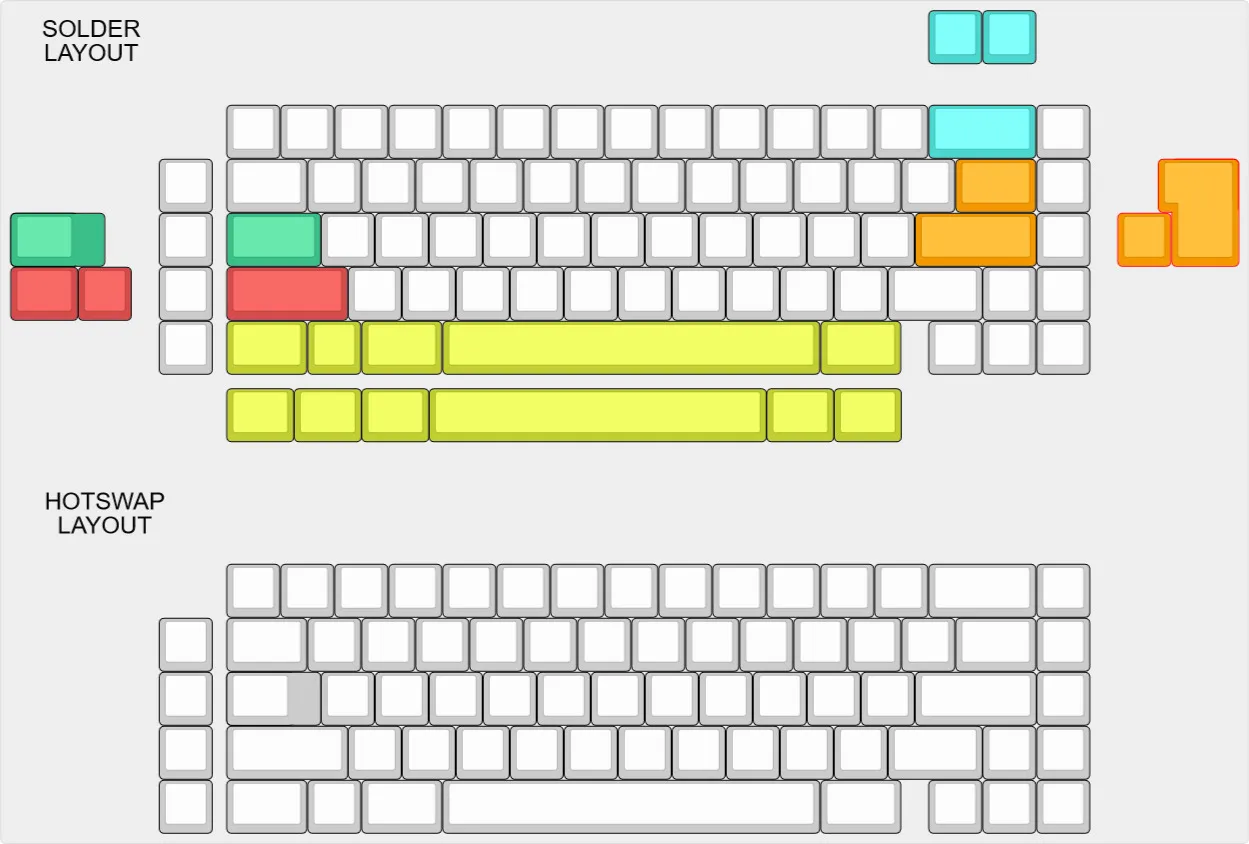 Kit Includes / Optional Extras
All standard kit comes include with :-
Typ 65+
Brass weight

Brass + Polycarbonate blocker accent

Full / Half Twill carbon fiber plate
Hotswap / Solder PCB
Daughterboard with JST connector
Accessory pack (Hardwares, EPDM gaskets and rubber bumpons)

Carrying case
---

Optional extras that will be offered separately :-
Full FR4 plate

Half FR4 plate

Full twill carbon fiber plate

Half twill carbon fiber plate

Hotswap PCB

Solder PCB

Quality Control / Expectations

As we strive to provide the best possible experience with the products we offered in our store, there may be few aspects that are unavoidable during the manufacturing process.

Hence, we have set a standard of expectation as below :-
No scratch, blemishes, pitting or any visual defects on the exposed portion of the keyboard after fully assembled.
Machining marks, anodization hook or scratches may be present on the interior of the keyboard / unexposed portion of the keyboard.
All brass weight are sandblasted and applied with clear coat. Oxidation may occur as part of the nature which we cannot control.
All sales are final otherwised stated. Please note that your purchase agrees with the quality expectations that has been set out by axiom studios LLP.
Fulfillment
The number of colors per kit are not limited and will be fulfilled in accordance to a maximum unit of 350 units (Limited to 1 kit per person, FCFS)

Estimated shipping date:- Q3 of 2022

Please keep in mind that we will have set the estimated shipping date based on the current capacity that has been communicated and planned. This does not taken into account with any possible delay due to external factor that is not under our control which can result any further delay.

For any further updates please keep out on the update tabs or our discord server.