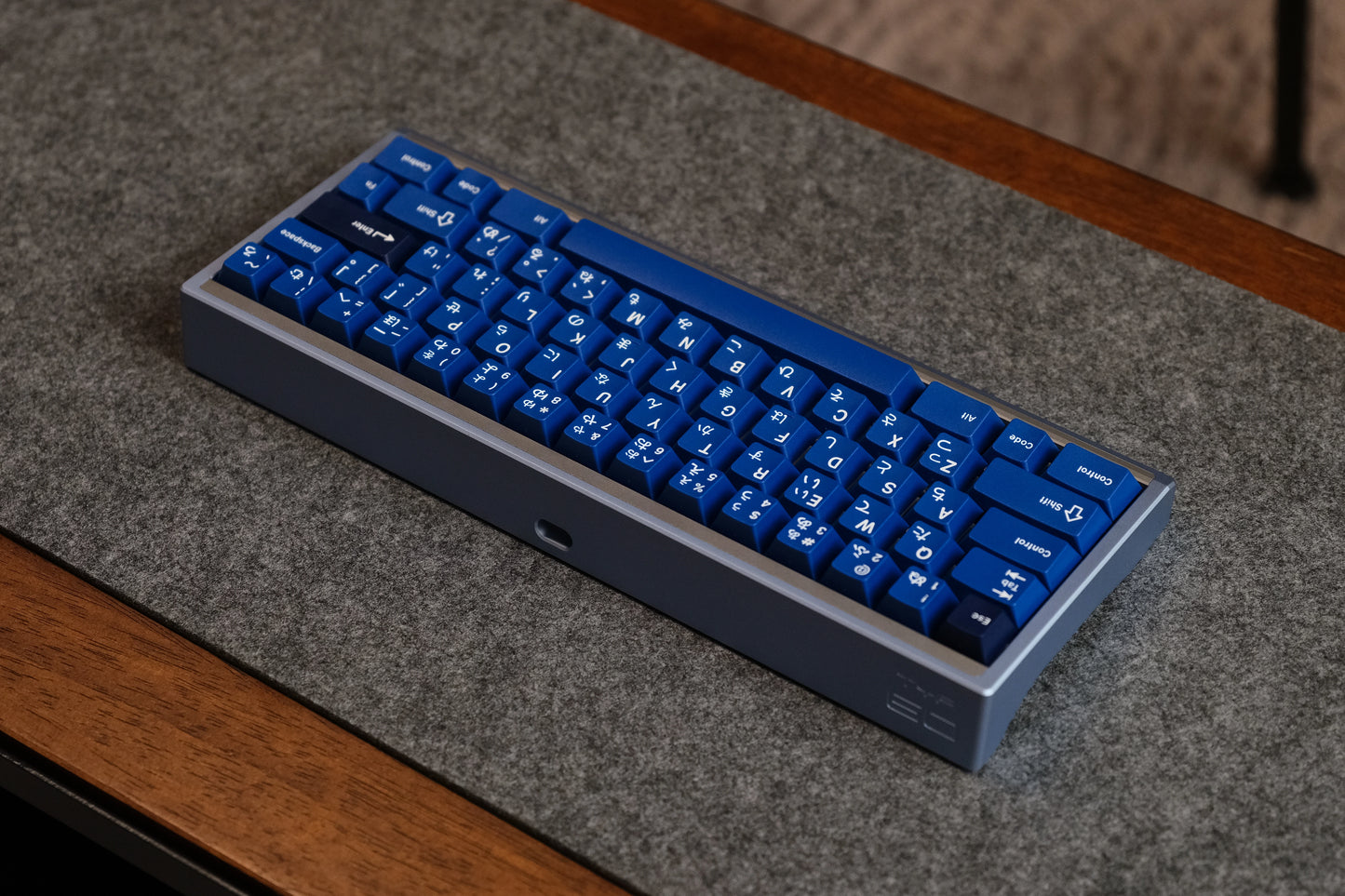 TYP60 2023 (In-stock Drop)
Tired of being stuck with one keyboard layout? Featuring interchangeable blocker for different layout configuration (WK, WKL and HHKB)
More comprehensive information about the board :-

TYP60 Information and Build Guide

TYP60 Gallery
__________________________________________________________________________________________________________________________________________________

Sales Information :-
TYP60 2023
Date: 7th May 2023 - 10PM MYT (GMT+8)
Method:

 

www.axiomstudios.shop (FCFS - 120 units)
Price:

 RM2000

Fulfilment: In-stock 
Total units: 60 units Angelite Blue / 60 units Titanium Silver
__________________________________________________________________________________________________________________________________________________
Features:-
6063 aluminum
O-ring gasket mount
16.60mm front height
7 degree typing angle
Sandblasted and coated stainless steel weight/blocks
Recessed screws and cutout for custom bumpons supplied by GEON
Carbon fiber plate
Weight 1.5kg unbuilt / 1.8kg built
Solder PCB by Kopibeng (XT60)

Unified daughterboard
Flex cut on alphas
QMK and VIA compatible
1.6mm thick
Solder only
USB-C unified daughterboard C3
Layout supports ISO
Purple solder mask (2-tone)
__________________________________________________________________________________________________________________________________________________
Kit includes:-
1 x TYP 60 case 
1 x Stainless steel weight
1 x A set stainless steel HHKB, WK, WKL blockers 
1 x Solder PCB + JST Cable + DB
8 x Millmax 3305-1 
1 x 50A silicone o-ring
1 x Twill carbon fiber plate (Full/Half)
1 x A set of Geonworks feet 60% (Grey)
1 x Custom hard carrying case
1 x Custom art velcro patch
1 x Authentication card
1 x Accessories pack 
1 x Information print out card
Extra add-ons (Optional):-
| | |
| --- | --- |
| Extras | RM (Ringgit Malaysia) |
| Twill Carbon Fiber Plate (Full / Half) | 110 |
| FR4 Plate (Full / Half) | 60 |
| Solder PCB + Daughterboard + JST Cable + 8 Millmax | 220 |
| GEON feet 60% (Grey/Black) | 45 |
___________________________________________________________________________________________________________________________________________________
IC, build streams and typing test:-
TYP60 IC Geekhack page: Here
Xinxinwong on TYP60: Build stream / Typing test

Lightning Keyboard on TYP60 : Build stream / Typing test
IamELVN on TYP60 (Mictlán) : Build stream / Typing test
__________________________________________________________________________________________________________________________________________________
FAQ:-
1. How do I add extras if I already purchased the keyboard kit? Will there be extra shipping fee?
A:
Contact us by email or discord ticket to let us know the additional items you wish to add-on extras
We will update your existing invoice to include the extras PCB/Plate and send you a revised invoice that reflects the total amount, including any applicable changes in shipping fees*
Make the payment for the revised invoice, including the price the price difference for the additional extras.
Alternatively, we will open up the extras an hour prior to the sales, you can add them into cart but there will be limited amount of stocks. Please take note!
*There will be no additional delivery surcharge if you add up to an additional PCB and plate. 
Alternatively, you could add the extras together during the drop and check out.
2. Can I change my order?
A: If the package has yet been packed, drop us a ticket through our Discord if you wish to change your order.
3. Do I get to pick my preferred blockers only?
A: No, our first in-stock sales will come with all blockers (WK, WKL and HHKB)
4. Does extra PCB come with extra Millmax?
A: Yes, all PCB will come with extra Millmax, JST connector, unified daughterboard and gasket o-ring. 
5. Will you be releasing other colors in near future?
A: No concrete plans, but join our discord or follow us on our Instagram for more updates on the TYP60:-
 https://www.axiomstudios.shop/pages/typ60-angelite-blue-titanium-silver