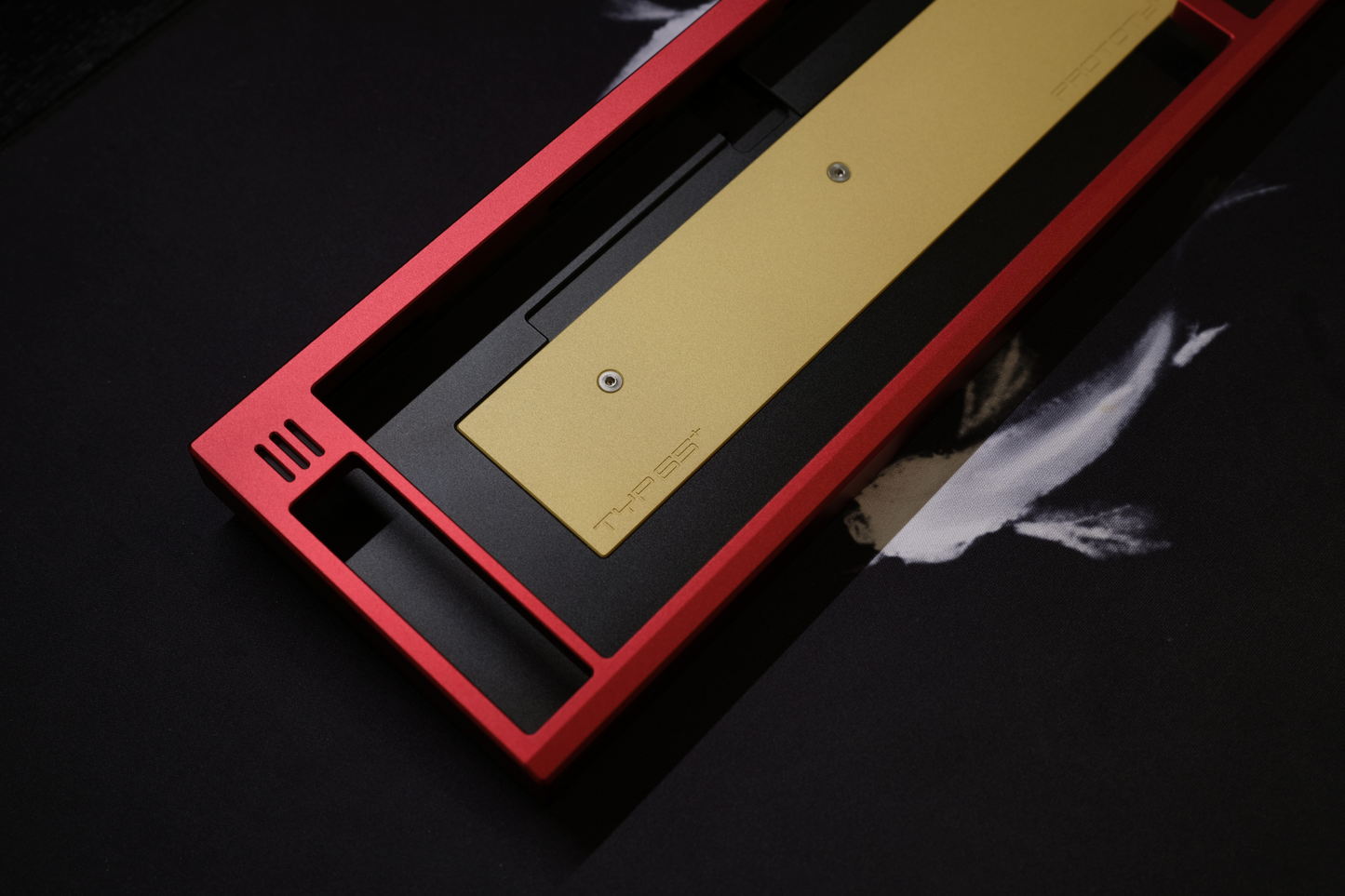 axi
öm studios - TYP 65+ (GB Ended)
TYP 65+ (Last updated: 09 Nov 2022) :- 

Estimated shipping period: Fulfilment completed 

For user guide please check out our help section above.
| | |
| --- | --- |
| Part list | Process |
| Aluminum case | Completed - Ready |
| Brass weight | Completed - Ready |
| Accent PC/Brass | Completed - Ready |
| PCB (Hotswap/Solder) | Completed - Ready |
| Carrying case | Completed - Ready |
| Screws and misc | Completed - Ready |
| Carbon fiber plate | Completed - Ready |
| FR4 plate | Completed - Ready |
| Packing box and materials | Completed - Ready |
| | |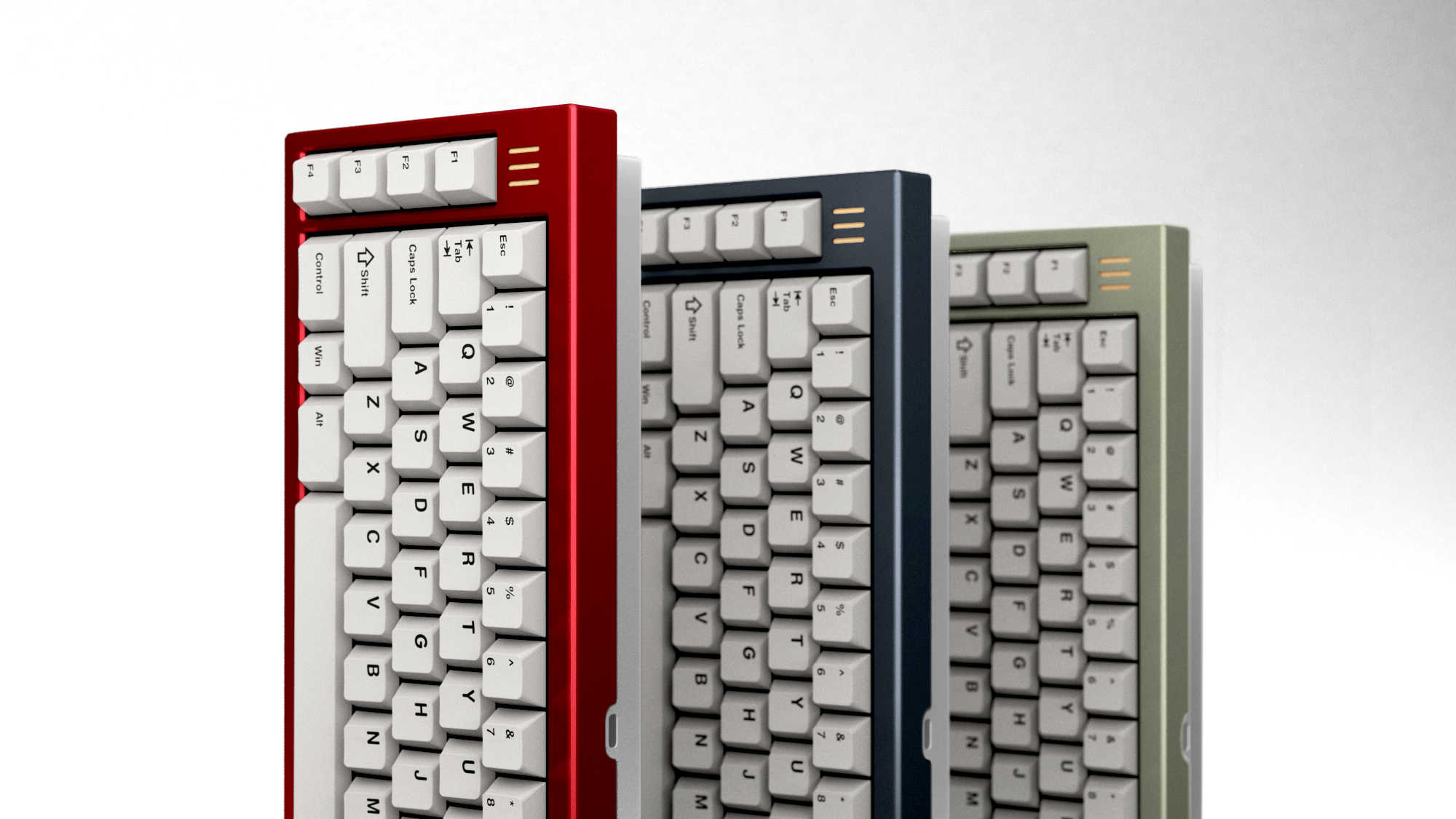 Typ 65+'s design was inspired from the JER mini layout with a functional blocker and accommodating a cherry front lip design which result in a classic minimalist case and mounting system. This board features both top mount and gasket mount configuration to suit your needs. The blocker can function as a layer indicator with LED soldered on or use with a brass badge insert for that clean look.
 - 14x71, Lead Designer.
---
Color overviews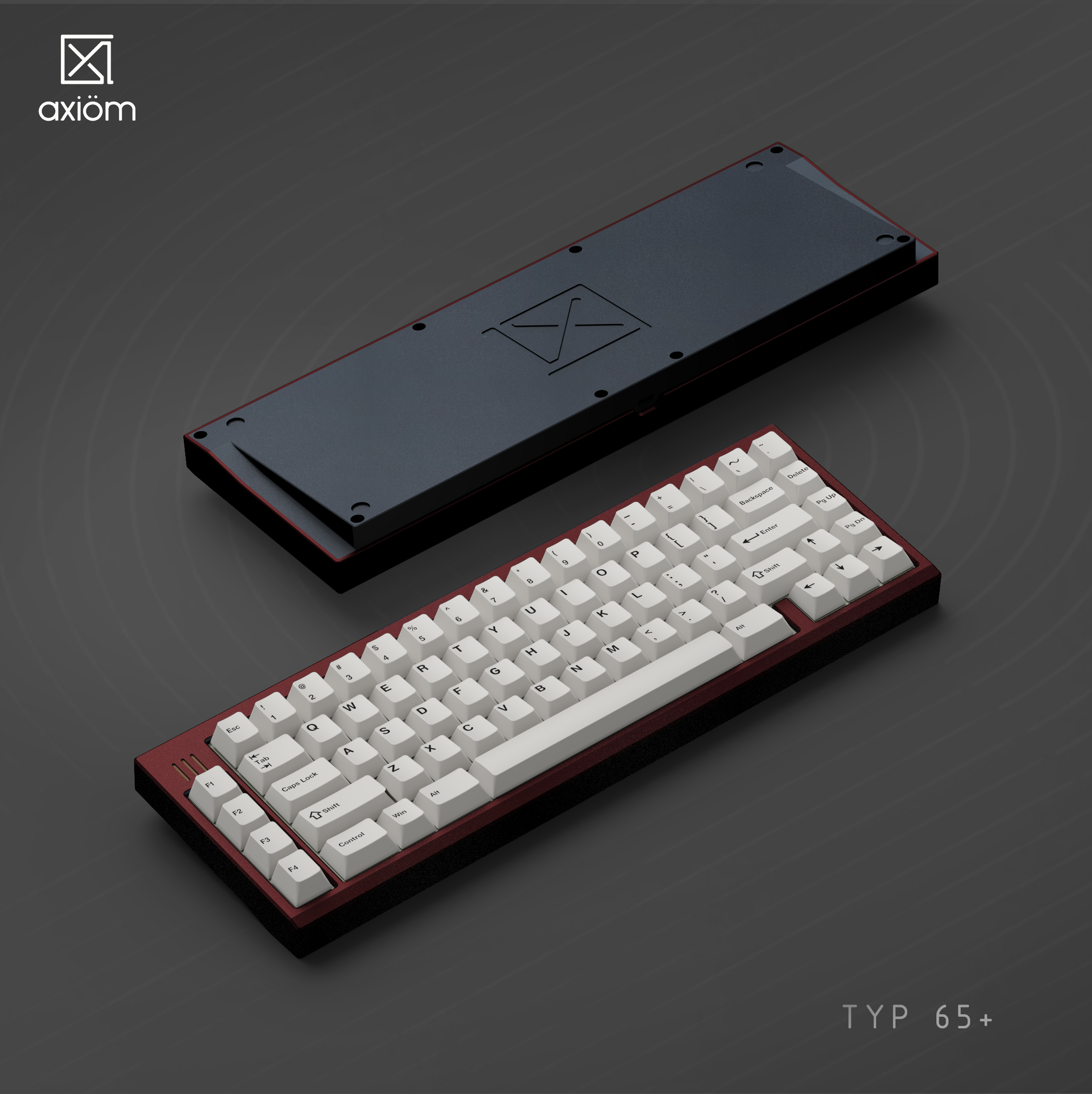 Garnet Red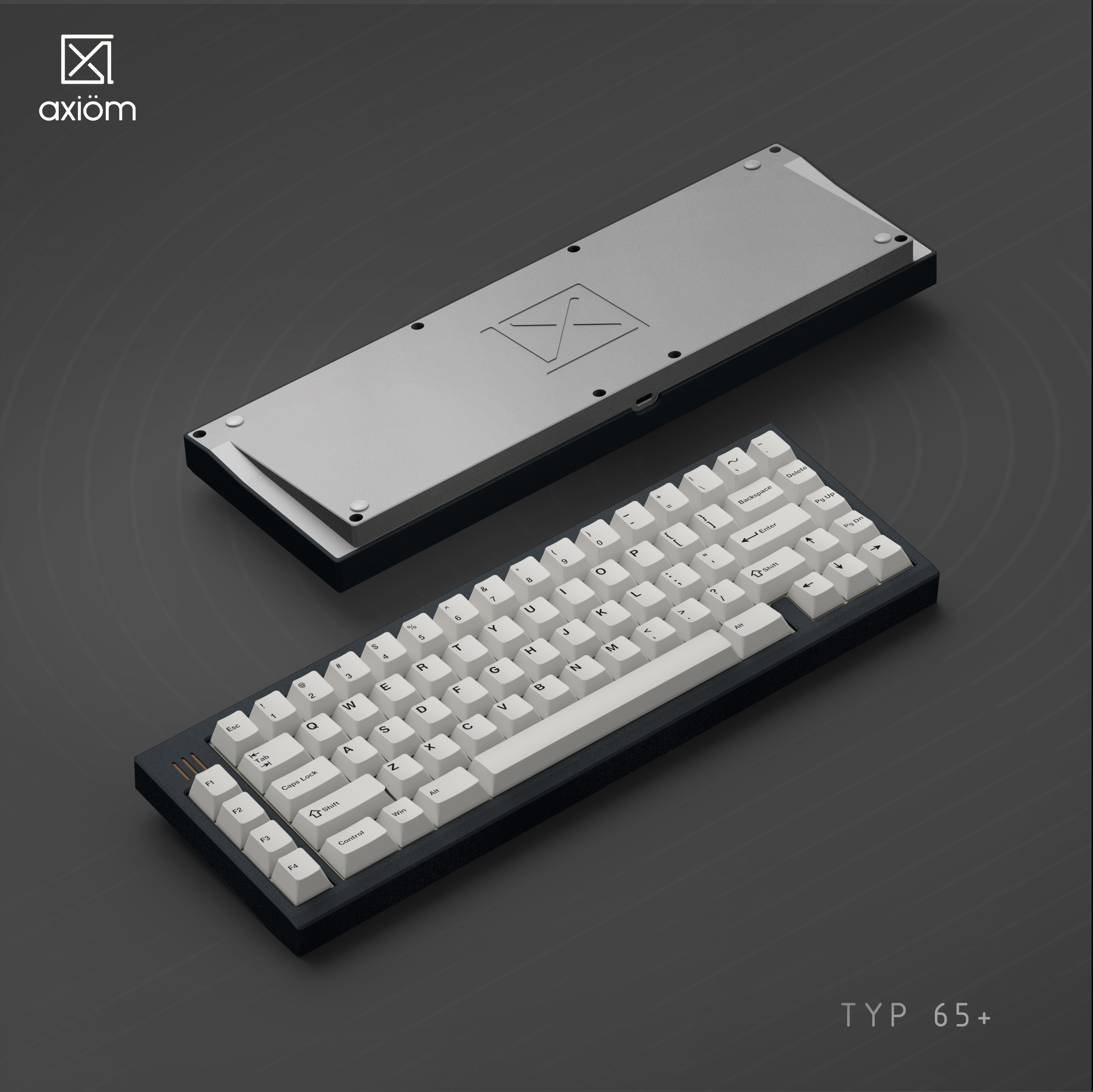 Spinel Grey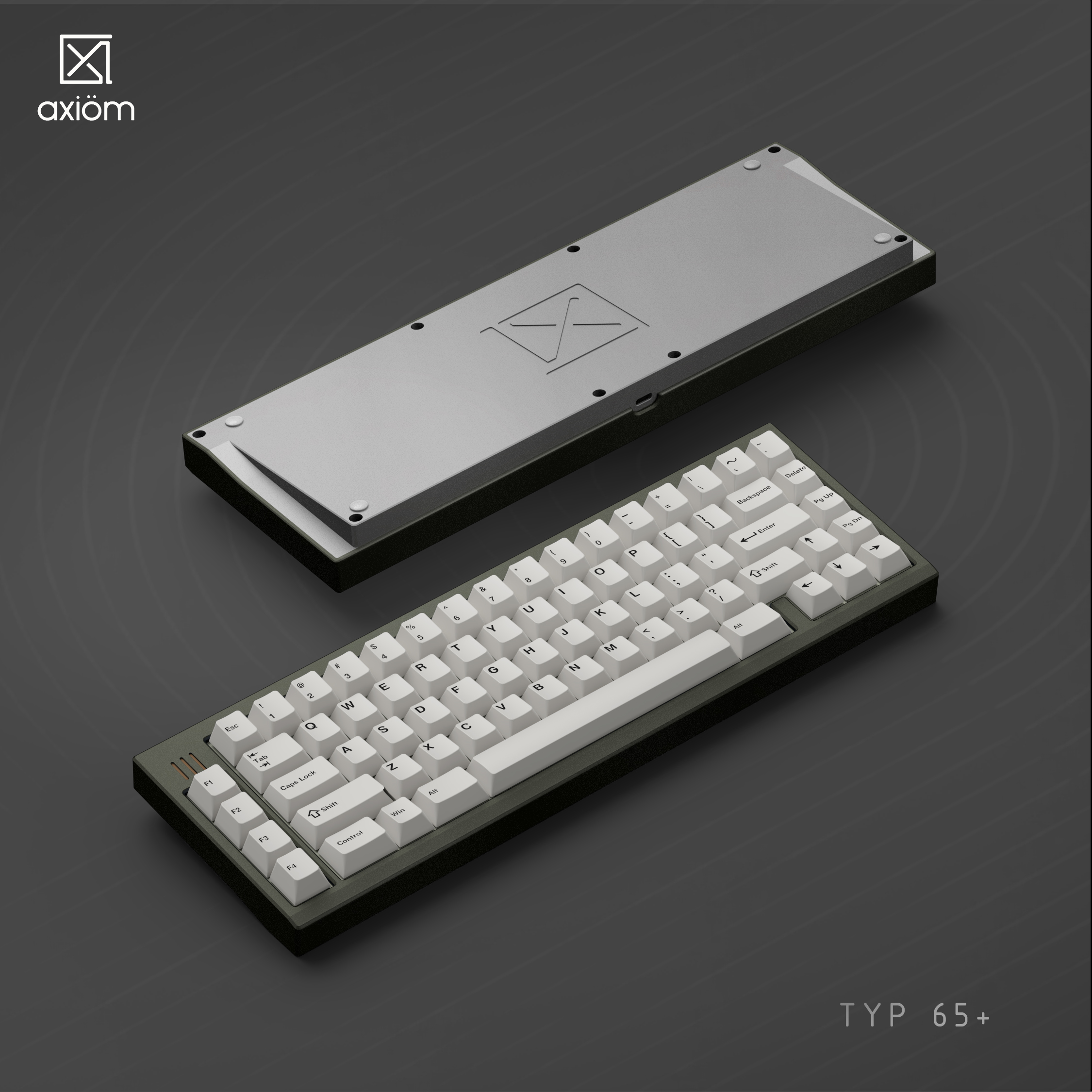 Nephrite Jade
---
1. Options :- 
There are plenty of combination to choose from which mainly comprises of choosing top and bottom case color, hotswap/solder pcb, full/half twill carbon fiber plate.

The available colors for top and bottom case includes :-
| | |
| --- | --- |
| Top Case Color  | Bottom Case Color |
| | |
| | |
| | |

Each standard kit also includes :-
Top and bottom case

Brass weight 

Brass and polycarbonate blockers 

Twill carbon fiber plate (Full / Half) 

Typ 65+ PCB by Kopibeng (Solder / Hotswap) 

Accessories (Bumpons, screws, gasket and etc.) 

Custom hard carrying case

---
2. Pricing :- 
Each kit will come standard with the choice of your PCB as below :- 
Standard kitting with PCB

Solder PCB

 

Hotswap PCB

Pricing for optional extras :- 
Extras

RM (Malaysian Ringgit)

FR4 (Full/Half)

 

Twill Carbon Fiber Plate (Full/Half)

Hotswap PCB (Fixed Layout)

Solder PCB
---
3. Sales method :-

ETA: Q3 2022 
Payment method: Stripe (Debit/Credit Card) / Local Transfer (Malaysian)
1st invoice - secure keyboard slot
2nd invoice - kit combination, optional extras and freight charges.
Comprehensive explaination as below how whole sales will run on our website during the day:-

The first invoice (secure GB slot):



This is a group buy slot for Typ 65+ on FCFS basis (Limited to 250 units).

For this invoice user just need to buy this slot "Typ 65+ Standard Kit Slot" at the base price of MYR 1640 and checkout (solder pcb price, upgrade to hotswap on second invoice if needed).

One unit per invoice, order with more than 1 unit will be cancelled

Selection for colors, PCB, plate layout and optional extras will be happen on the 2nd invoice where shipping will be charged.
The second invoice (color selection, extras and shipping):
This is for color selection and kit configuration for those who acquired Typ 65+ slots which will be open after the Typ 65+ slot GB ended.

Once your slot is secured, you can choose color, plate option and pcb option on "Typ 65+ Color Selection".
For optional extras, please make sure you add them on "Extras for Typ 65+" and check out together with "Typ 65+ Color Selection" in ONE INVOICE.

Please refrain from placing order if you do not have slot invoice (first invoice) else orders will be cancelled minus fees.

Please use the same account to check out the color selection and optional extras order as the GB slot order.

If different account has been used, we will automatically cancel your slot as we are unable to trace back to the original order.

Shipping will be calculated here as well.
---
4. Layouts :-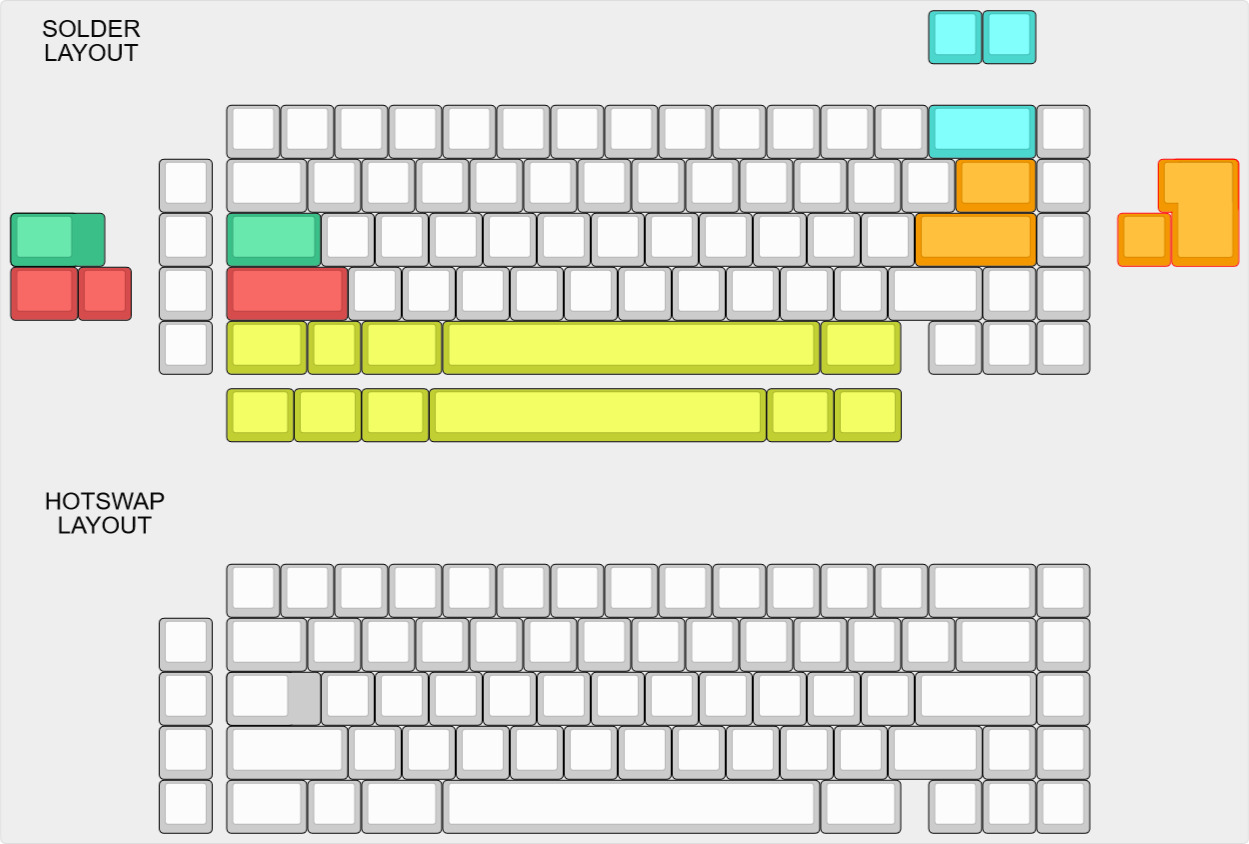 ---
5. Quality Expectations :-


As we strive to provide the best possible experience with the products we offered in our store, there may be few aspects that are unavoidable during the manufacturing process. 

Hence, we have set a standard of expectation as below :- 
No scratch, blemishes, pitting or any visual defects on the exposed portion of the keyboard after fully assembled.
Machining marks, anodization hook or scratches may be present on the interior of the keyboard / unexposed portion of the keyboard. 
All brass weight are sandblasted and applied with clear coat. Oxidation may occur as part of the nature which we cannot control. 
All sales are final otherwised stated. Please note that your purchase agrees with the quality expectations that has been set out by JBS SOLUTIONS SDN. BHD. 
---
6. Typing Test / Build Streams / Archives :-
Lightning XI Build Stream
 / 
Typing Test
Jae from Prototyping Build Stream
iamELVN Typing Test (Different Mounting / Keycaps Choices)
Our Prototype V1 Typing Test
vyron_ Twitch Build Typing Test 
---
6. IC/GB Information Pages :-
IC Page 
GB Page